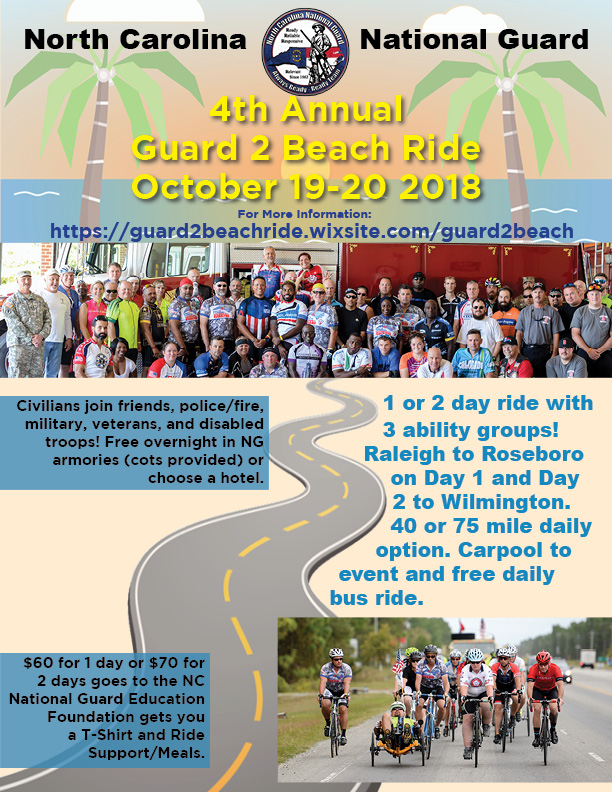 The Guard 2 Beach ride is a multi-day cycling event that starts at the North Carolina National Guard Joint Force Headquarters in Raleigh, NC and finishes at the Carolina Beach Road Armory in Wilmington, NC. The event covers roughly 75 miles each day (40 mile option), for a total ride distance of around 150 miles. Don't worry if this seems too long for your skill level though, because there are shorter options available and different ability groups = it is not a race!
​The purpose of this ride is to bring together civilians/friends, veterans, active service members, police/fire/... and all patriotic citizens within our broader community to support one another through a physical outlet and fellowship.
-The Guard 2 Beach ride is a charitable event. The registration fee of $60.00 ($70 for 2 days) goes towards the cost of a tee-shirt, MEALS, FREE OVERNIGHT IN ARMORY ON COT OR FREE SHUTTLE TO HOTEL AT YOUR EXPENSE and ride support. All remaining money will be donated to the North Carolina National Guard Association Education Foundation. The NCNGA Education Foundation is a 501(c)(3) charitable organization and donations are tax deductible to the extent of the tax laws. Donations fund scholarships to members of the NC National Guard and their families. Since 1968, the NCNGA Education Foundation has funded over $1.3M to more than 1800 students.